This quest is doable since the patch of December 2nd 2015.
To start it, talk to Wolf in the "Radius" Camp in Tunguska.
Trigger ONLY the very first stake (see screenshot) at the western camp entrance.
Then walk straight to Yager (Б8-2), your journal gets updated when you get close to his campfire
Talk to Yager, who turns out to be Wheel, the guy Wolf is looking for
Go back to Wolf and tell him what Wheel said.
Important: By all means save yourself some time and just trigger the very first stake. You do not have to follow all the stakes to Yagers campfire. This quest can easily be done solo this way.
After this quest you should talk to Wolf again to get the quest "Pathfinder".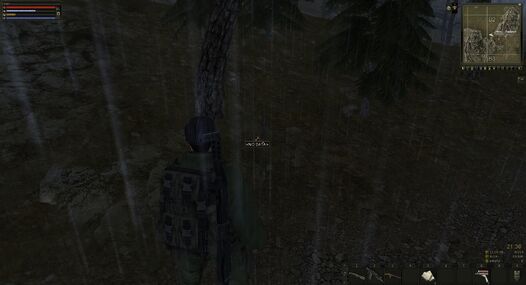 Ad blocker interference detected!
Wikia is a free-to-use site that makes money from advertising. We have a modified experience for viewers using ad blockers

Wikia is not accessible if you've made further modifications. Remove the custom ad blocker rule(s) and the page will load as expected.