Не тайный тайник
Vital statistics
Quest
Не тайный тайник
Map
Vesuvius
Location
Ж3-2
Npc
Vanya Hell
Money Reward
5000
Где-то на Вазувии у "белых" есть тайник. Известно лишь, что он находится "под ямой". Надо найти его.
Найти тайник.
(Somewhere Vazuvii for "white" is the cache. We only know that he is "under the pit." We need to find him.
Find the cache.)
Go to the mine in k-3.
Edit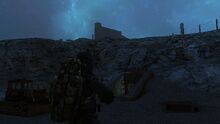 I used the tunnel closest to the railway. Go all the way through to a hanger. Now go around the top of the pit, until you see the tunnel with the bulldozer in front. Go down the stairs, its a maze in there, but you have to find documents in one of the caves down there. Be prepared for bleeding effect as soon as you enter the cave. Then you get swarmed by Forsaken
Edit
Ad blocker interference detected!
Wikia is a free-to-use site that makes money from advertising. We have a modified experience for viewers using ad blockers

Wikia is not accessible if you've made further modifications. Remove the custom ad blocker rule(s) and the page will load as expected.