Монтаж на выезде
Vital statistics
Quest
Монтаж на выезде
Map
Airport
Location
E4
Npc
Carl
Money Reward
15000
Carl asked you to install the device in the radio tower to the west in square Г4.
Go inside the building at square Г4 and interact with the electricity box in the corner and click to install the device from Carl. You will be presented with several options and it is important to select the correct ones
Click on the option "Использовать синюю." (blue wire), you will be shown a second set of options to choose. Now we must click "Красный." (red terminal)
Click on the option "Использовать зеленую." (green wire), then "Черный." (black terminal)
Click on the option "Использовать" (use), then "Белый." (white terminal)
If done correctly, the quest item will be removed from your inventory and you can return to Carl
If you select the wrong options you will get the stun effect for 5 seconds, after which you will need to try again
Rewards 1500 survival, 3000 support experience
See below image for the exact order of the options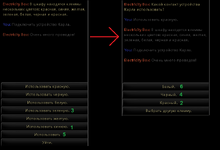 Ad blocker interference detected!
Wikia is a free-to-use site that makes money from advertising. We have a modified experience for viewers using ad blockers

Wikia is not accessible if you've made further modifications. Remove the custom ad blocker rule(s) and the page will load as expected.